TERMS OF SALE
Terms of sale are net 30 days from date of invoice, a 1.5% interest charge per month will apply to overdue accounts. All invoices are to be paid in Canadian dollars, payment by cheque, money order, Visa or Mastercard.
Our invoicing includes shipping and handling charges from Fredericton, New Brunswick as well as all applicable taxes.
Orthodontic Supply of Canada warrants no product except as to defects in material and/or workmanship arising within one year of date of sale. The buyer assumes all risk and liability from purchase or use of products.
RETURN & CREDIT POLICY
Custom products, such as welded band assemblies, products requiring refrigeration or chemical products and/or non-stocked items cannot be returned for credit unless an error has been made on the part of OSC. All other products may be returned for a credit within 30 days of purchase if the product is in the original packaging, not opened or partially used and in re-saleable condition. Products being returned for credit must be shipped pre-paid via courier or Canada post. Returns may be subject to a 15% minimum restocking fee at the discretion of OSC.
All returns must be authorized by Orthodontic Supply of Canada Inc. All returns must have a return authorization number (RMA#) and a copy of your invoice. To obtain an RMA Please contact OSC at 1-800-387-7411.

Returns sent via collect or without an RMA# will NOT be accepted by OSC unless specifically authorized by OSC.
If a product is deemed defective by OSC a full credit or replacement will be issued (a Lot# MUST be provided).
Since January 1st, 2019 any manufacturer selling medical devices into Canada must be part of the MDSAP Program. MDSAP is a Medical Device Single Audit Program which includes requirements of ISO 13485:2016 and the regulatory requirements of the following five-member countries: Australia,
Brazil, Canada, Japan and the USA. Canada (Health Canada) has mandated that manufacturers who sell medical devices (Class II, III and IV) into Canada must have a Quality Management System that
has been audited through the MDSAP program.
Orthodontic Supply of Canada Inc. is proud to be recognized under the MDSAP program. This means you can be confident that all products purchased from OSC are QUALITY CONTROLLED & SAFE FOR YOU, AND YOUR PATIENTS.
Manufacturers under the MDSAP program undergo annual audits by the Auditing Organizations on a three-year cycle with the third audit being a re-certification audit.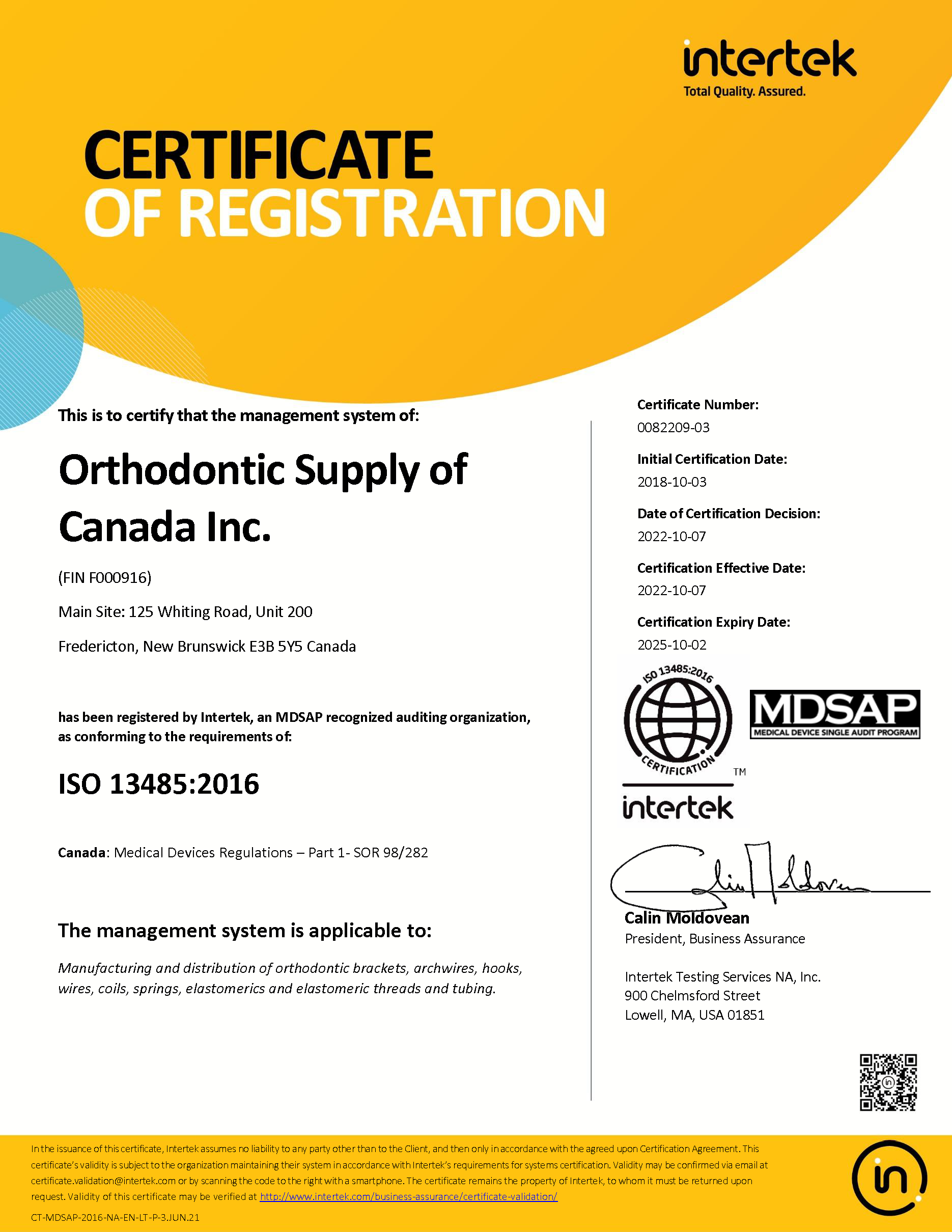 LEGEND
When accessing our website, you will note that we write some item descriptions using shorthand. Below, please find the legend for this shorthand:
w/ = with
w/o = without
GOB = Gingivally Offset Base
LL = Lower Left
LR = Lower Right
UL = Upper Left
UR = Upper Right
BT = Buccal Tube
Ang = Angulation
Tq = Torque
Nar = Narrow
SS = Stainless Steel
Rect = Rectangular
Sq = Square
Rd = Round
+ = Plus
NiTi = Nickel Titanium
BTA = Beta Titanium
IPR = Interproximal